Click on the titles below to read the articles.
Issue 4 of Volume 62 (2018) was dedicated to sex-sensitive analyses of workplace hazards and health outcomes. The editorial by Quinn and Smith provides an introduction to the topic. Articles in this issue consider the role of sex and gender in exposures to workplace violence, psychosocial stressors, carcinogens, and injury risks, in a variety of workplace settings.
Issue 4 of Volume 62 (2018) - Special Issue on Gender, Work and Health
Some other articles that highlight sex and gender differences in workplace stressors and personal protective equipment, as well as health outcomes of women, include:
Workplace Violence Against Female Health Managers in the Male-Dominated Construction Industry
Jeongim Park, Sohyeon Choi, Yeji Sung, Jinjoo Chung, Sangjun Choi
Pregnancy Outcome in Women Exposed to Metal Fume in Welding: A Canadian Cohort Study
Jean-Michel Galarneau, Jeremy Beach, Nicola Cherry
Effect of Gender Roles and Workplace Violence on the Professional Quality of Life and Wellbeing at Work Among Child Protection Workers
Renaud Dufour, Robert-Paul Juster, Steve Geoffrion
Occupational Dermatitis in Welding: Does Nickel Exposure Account for Higher Rates in Women? Analysis of a Canadian Cohort
Nicola Cherry, Jean-Michel Galarneau
Use of a Canadian Population-Based Surveillance Cohort to Test Relationships Between Shift Work and Breast, Ovarian, and Prostate Cancer
M Anne Harris, Jill MacLeod, Joanne Kim, Manisha Pahwa, Michael Tjepkema, Paul Peters, Paul A Demers
Sex and Gender Role Differences in Occupational Exposures and Work Outcomes Among Registered Nurses in Correctional Settings
Mazen El Ghaziri, Alicia G Dugan, Yuan Zhang, Rebecca Gore, Mary Ellen Castro
Facial Anthropometric Differences among Gender, Ethnicity, and Age Groups
Ziqing Zhuang, Douglas Landsittel, Stacey Benson, Raymond Roberge, Ronald Shaffer
Latest Issue
Vol 67, Issue 8, October 2023
Browse selected papers from the latest issue of Annals of Work Exposures and Health below.
Included in this issue: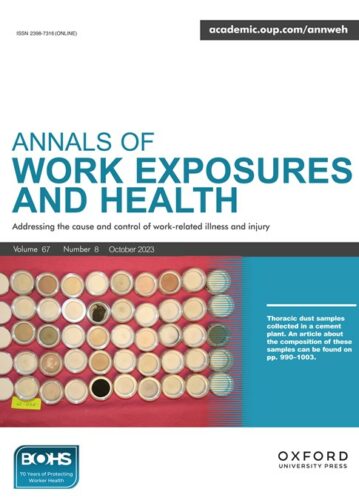 Not sure which membership level is right for you?
BOHS membership offers a wide range of benefits, find out which level you are eligible to join at with our membership selector tool.
Membership selector tool