The prize 
If you are our Trevor Ogden Award winner, you will receive:  
A full conference pass to 

the 

Annual 

BOHS 

Occupational Hygiene Conferen

ce;

 

A place at 

the

 Annual 

BOHS 

Occupational Hygiene Conference Gala Dinner

; and

 

£1,000 cash prize.

 
Entry requirements  
Each member of the BOHS Senior Management Team is given the opportunity to nominate an individual who has clearly shown their contribution and dedication to the Society and Occupational Hygiene as well as the impact it had. 
Eligibility criteria  
If you have been nominated for this award, you will have demonstrated an outstanding voluntary contribution to BOHS with a considerable positive impact on the Society and its member, for example with a deliverable or a successful new initiative.  
Terms and conditions  
The applicant agrees that BOHS may use their name, and the name of their nomination, and likeness for advertising and publicity purposes in connection with the awards, including but not limited to publication of their name, and the name of their nomination. The winner (and their representatives and personnel) may be required to and agree to take part in reasonable publicity events in connection with the award. 
The successful applicant will have to:  
Arrange leave of absence with their employer.

A

rrange such insurance as may be directed by BOHS.

 

Arrange their travel and accommodation at their own expense

 

Within six weeks of returning from the Annual

 BOHS

 Occupational Hygiene Conference, submit an article which will be considered for publication within BOHS' Exposure magazine. The article should describe the professional aspects of the trip and the benefits gained from it.

 

At all times for the duration of the award, conduct themselves in a manner befitting a professional occupational hygienist and a representative of BOHS.

 

Be potentially photographed and filmed during the presentation event

 for publication

.  

 
Who is Trevor Ogden?
After receiving a PhD in atmospheric physics from Durham University, Trevor worked for three years in a government lab in Australia, with a group studying cloud physics to increase rainfall. This gave him the experience of the problems of measuring airborne particles. In 1971, he moved to a job at the Institute of Occupational Medicine (IOM) in Edinburgh, to improve methods of measuring dust, especially in coal mines. His boss there was WH (Henry) Walton, who had been one of the founders of BOHS, and President in 1959.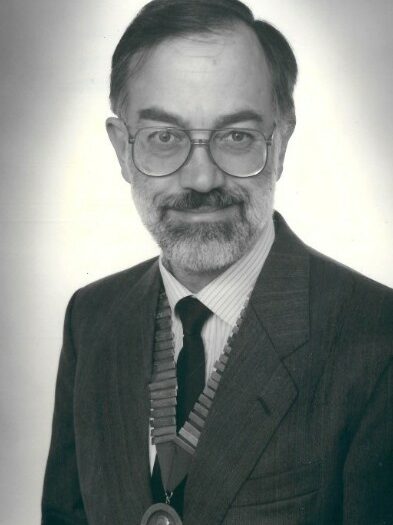 Wind-tunnel work and IOM fieldwork on coke ovens and in mines were showing how sensitive many samplers were to external air movement. It was clear that the same thing would be true of the human head, and Henry suggested that this would be a logical guide to specifying the performance of dust samplers. At the 4th BOHS International Symposium on Inhaled Particles in 1975, Trevor presented the first data on the entry efficiencies of the head. He proposed that instruments and standards should conform to the directionally-averaged head efficiencies. Later work by Jim Vincent (who also became a BOHS president) and others extended this. In due course, the results became the basis of the inhalable particle conventions now used worldwide.
Also, while at the IOM, Trevor developed a method of measuring the inhalation hazard of radon progeny in flammable atmospheres, which became a standard method for these measurements in British coal mines.
In 1977, he moved to HSE's occupational hygiene laboratories at Cricklewood. This was a period when the public was waking up to the risks of asbestos, but the fibre-counting method had many problems. Trevor and others quantified the errors and developed the RICE quality assurance scheme and methods of internal quality control. Thirty-five years later, they are still used by the HSE publication HSG248 "The Analysts' Guide".
In 1991 Trevor became the President of the Society. He took early retirement in 1996. However, a year later he was asked by the Society to become Chief Editor of the Annals of Occupational Hygiene, now Annals of Work Exposures and Health, which he took on with great success. He was British delegate and BOHS nominee to the European Standards (CEN) committee, which has revised EN 689, on measuring compliance with OELVs. His most significant accomplishment to date is being awarded an OBE in the 2018 New Year Honours list, for services to occupational hygiene and workplace air quality.